Cat Summer Tips: Help Your Cat Beat the Heat This Summer!
Summer might be the best time of the year for people to enjoy all sorts of fun outdoor activities! But if you allow your cat outdoors, summer doesn't necessarily mean good times. Heat and sun can pose a serious risk to outdoor cats. Below are some basic cat safety tips to help your cat beat the heat this summer: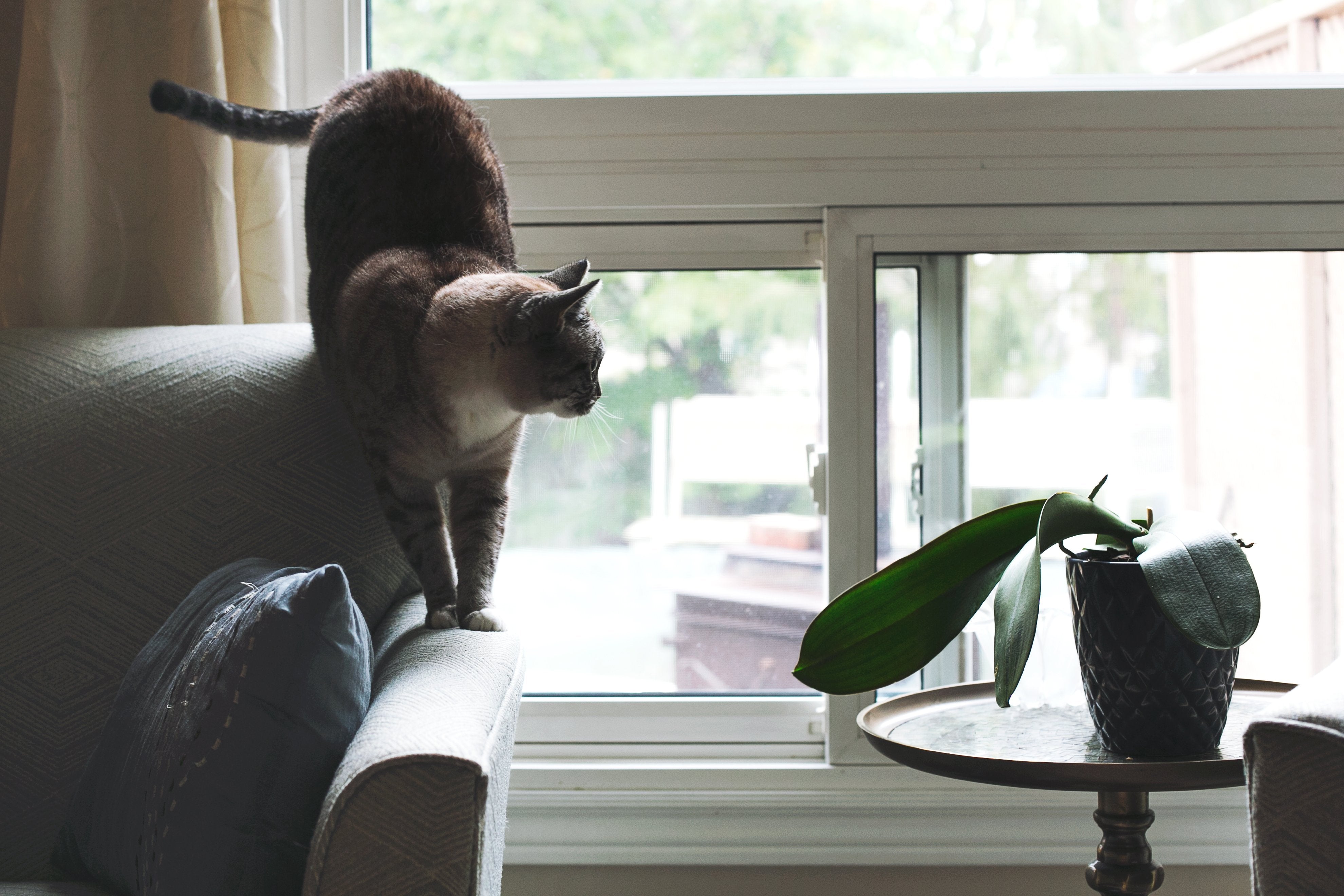 MAKE SURE YOUR CAT HAVE A COOL, AIR-CONDITIONED PLACE TO STAY
When the outside temperature really heats up, it's best to keep your cat in a cool, air-conditioned environment.
Make sure your cat have a cool place to sit. Provide them access to shades but limit their sunlight exposure, especially if your cat likes to lie in sunny spots. Believe it or not, cats can sunburn. Just like for people, sunburns can be painful for a cat. And overexposure to the sun can lead to skin cancer.
Besides, you may want your house to be ventilated. But if you have to open up some windows, always make sure your screens are fully secured before opening a window. Otherwise, your cat may fall out!
PROVIDE LOTS OF FRESH, COOL WATER
Cats get much thirstier than we do when they get hot, and other than drinking, they really have no way to cool themselves down. So make your cat always have lots of fresh, cool water to drink.
Make sure your cat has multiple places to get a nice, cool drink of water in your home. It's best to have a water station in all of their favorite hangout locations. You can keep the water cool cool by adding a couple of ice cubes as well.
Some cats prefer running water. You can buy a cat water fountain if that's the case for your furry baby.
Sometimes cats don't drink as much water as they should. If your cat isn't staying hydrated, consider feeding them wet food or add some water to their dry food.
If necessarily, consult your vet if your cat still isn't drinking enough.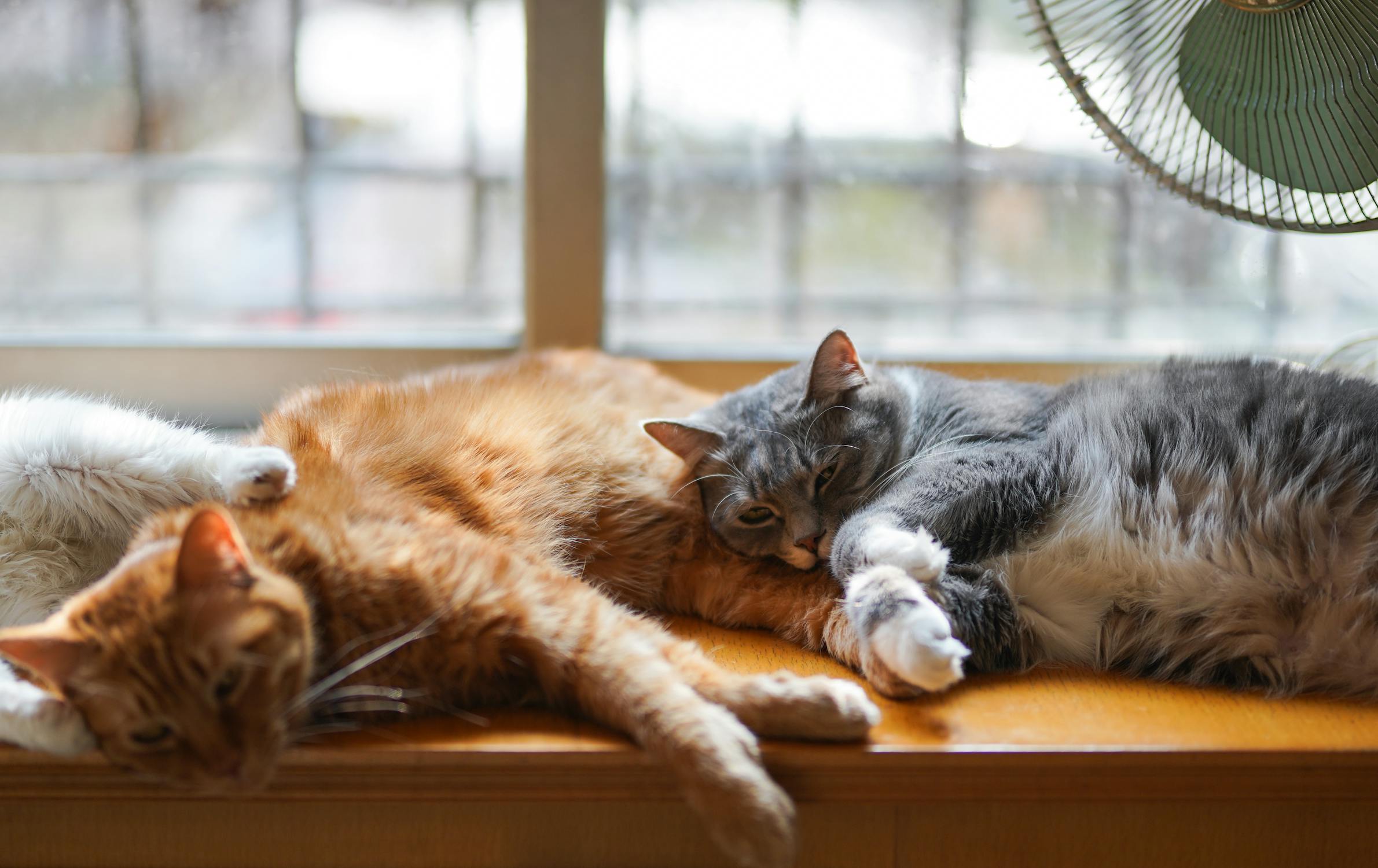 SAVE PLAY TIMES FOR EARLY MORNING OR EVENINGS
Don't let your cat play vigorous games in the hottest part of the day. Keep physical activities to the early morning or evening hours.
If you have an outdoor cat or let your cat out on the catio, don't let them outside during the hottest times of the day. Sunlight can really heat things up when it's coming through the window, so even indoor cats will likely appreciate waiting for the sun to go down before playing.
BRUSH YOUR CAT REGULARLY
We know that a cat's fur can help protect him from heat. So many people rarely brush their cats. However, brushing can help reduce some of the mats and release hairs that may be trapped within the coat. That can help your cat maintain his body temperature. If you groom and brush your cat regularly and keep him free from mats, tangles and excess fur, it will be much easier for his body to cool off.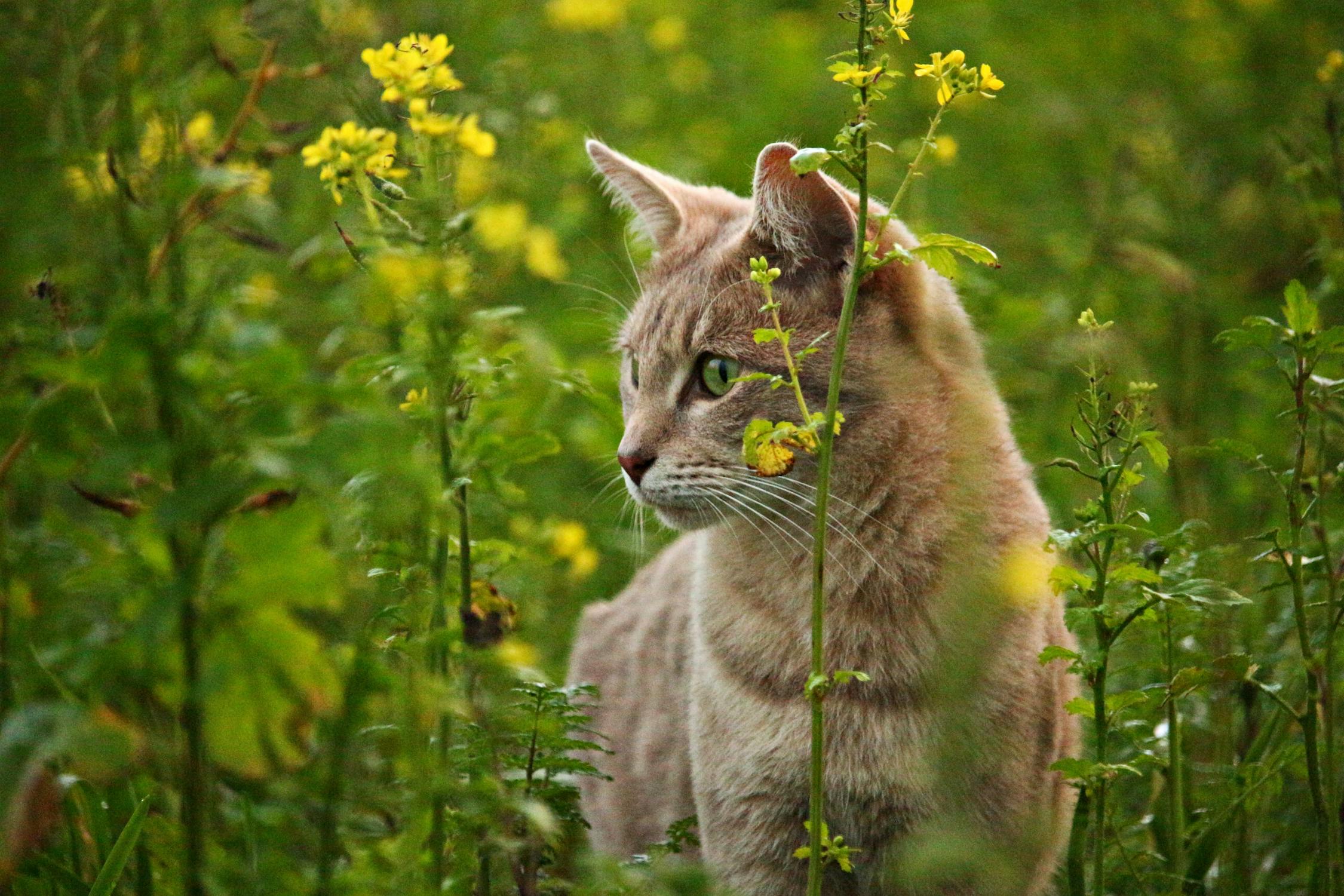 PREVENT PARASITES AND BEWARE OF STINGING INSECTS
Outdoor cats and cats in the catio are at risk of flea and tick infestation. Visit your vet for advice on which flea/tick preventive is appropriate for your cat and get her started on it BEFORE letting your cat outdoors.
Also beware of stinging insects. Cats may think it interesting to pounce on small stinging insects, but it always results in injury. So beware of stinging insects and nearby nests. And don't leave food or drinks around that contain sugar because they attract bees.
NEVER LEAVE YOUR CAT IN THE CAR
During warm weather, the number of heat-related deaths of animals (and tragically, children) left in hot cars is staggering. Temperatures in a car heat up drastically in minutes, even in cooler months, and it's potentially deadly to your cat. For example, on a 78 degree day, temperatures in a car can reach 90 degrees in the shade and top 160 degrees if parked directly in the sun. To prevent this happen, NEVER leave your cat in the car no matter how briefly you think you will be gone.