3-In-1 Pet Shower Sprayer: This pet shower sprayer integrates the function of massaging, grooming and bathing. Its high-quality ABS massage needles helps to massage and depilate your pet without harming your pet's skin. It also effectively clean the dirt on pet skin. It's great for dogs and cats with long, short or curly hair.
Saving Time & Water: There is a simple on/off button on the shower sprayer, so you can freely control the water flow. It makes all cleaning work easier and more convenient. The non-slip handle of the shower sprayer is comfortable to hold, your hands won't feel sore even after long time of using. Under the sprayer cover there's a space for you to put in shampoo, making bathing more convenient.
Quality Material: The 2-meter stainless steel hose with electroplating treatment on the surface can effectively resist corrosion, high temperature and pet biting. The shower diverter is made of solid brass. The diverter with smooth surface can withstand changes of water pressure and prevent daily rust. With an on/off valve, the shower diverter has 3 diversion functions and can effectively control the water flow no matter the shower sprayer is fixed on wall or held in hands.
Wide Usages: This shower sprayer can be used indoors and outdoors. You can use it when you bath your pet, when you take a shower, or when you water plants in the garden. You will receive a sprayer holder that can be installed on wall. To prevent water leaking, you can wrap the interface with anti-leak tape. Each set also includes a 1/2''metal diverter and 4 plastic connectors. It's suitable for most houses and bathrooms.
Complete Shower Sprayer Set: Each set includes: 1 * shower sprayer, 1 * stainless steel hose, 1 * 1/2" brass diverter, 1 * sprayer holder, 1 * anti-leak tape, 4 * connector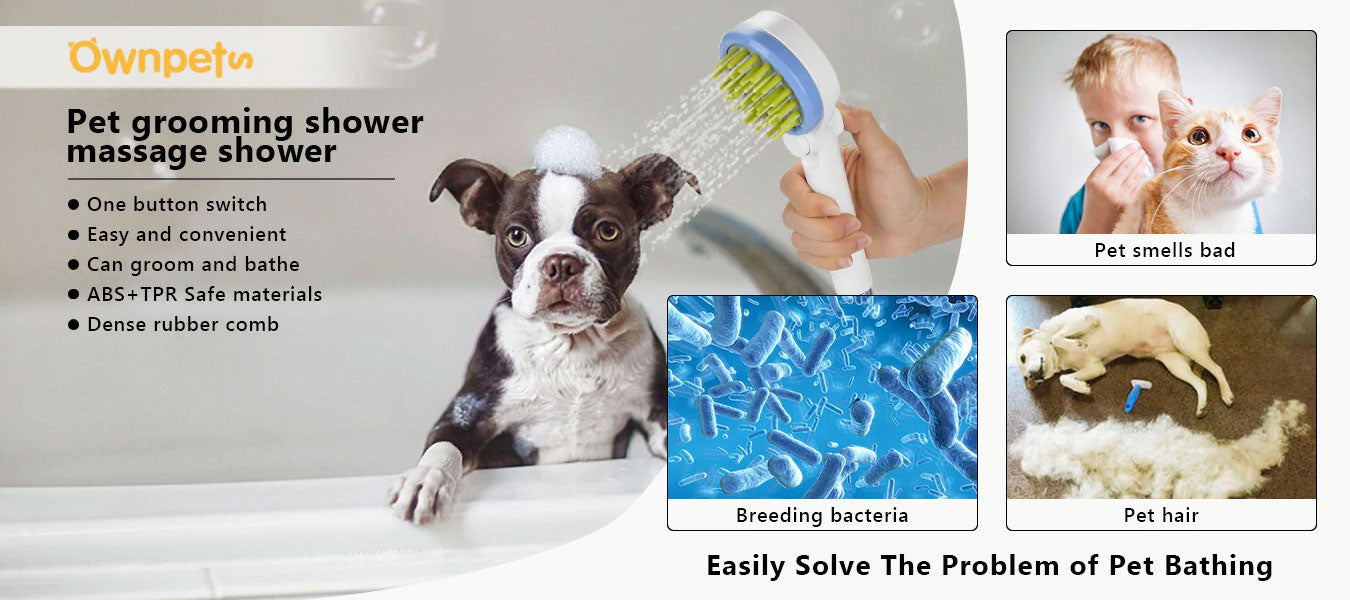 Specification
Material: Sprayer; Hose: stainless steel; Diverter: brass
Dimension:

Shower sprayer: length 9.25"(23.5cm), diameter 3.15"(8cm)
Stainless steel hose: length 78.74"(2cm)
Metal diverter: 0.5"
Connector:

| | |
| --- | --- |
| Diameter | Usage |
| 1/2in+1/2in | to connect garden hose, car wash gun hose |
| 3/4in+1/2in | to connect the outdoor shunt |
| 1/2in+1/2in | to connect extension adapter |
| 5/8in+1/2in | to connect the faucet |
Feature
One hand operation
Bath, massage and groom your pet at one time
Easy to install & use
Can be used indoors & outdoors
Suitable for both pets & people
Complete sprayer set fits for most families
Package including
1 * Shower sprayer
1 * Stainless steel hose
1 * 1/2" diverter
1 * Sprayer holder
1 * Anti-leak tape
4 * connector