Feature
Collect pet hair while trimming and brushing
Helps to keep your house clean
3 indicators let you know when the clipper is operating
Easy to operate & clean
USB recharging & convenient to use
Complete grooming kit for home use & professional grooming
Suitable forsmall/large cats, dog & other Animals
Specification
Color: Blue
Size of Clipper: 2in(diameter) * 9.6in(height)
Size of Storage bag: 9in * 10in
Package including
1 * 2-in-1 Hair suction clipper
2 * Storage release bag
1 * Scissors
1 * Steel comb
4 * Limit comb (3mm/6mm/9mm/12mm)
1 * Lubrication oil
1 * Cleaning brush
1 * USB cable
2-in-1 Professional Grooming Clipper: The unique 2-in-1 design makes it possible to trim, suck and collectpet hair at one time. It comes with a separate fan and a hair storage bin, which helps to collect pet hair. The ground won't be messy with pet hair. Grooming your pet will be much easier. One storage bin and two large storage bags let you switch among them according to the amount of pet hair when trimming.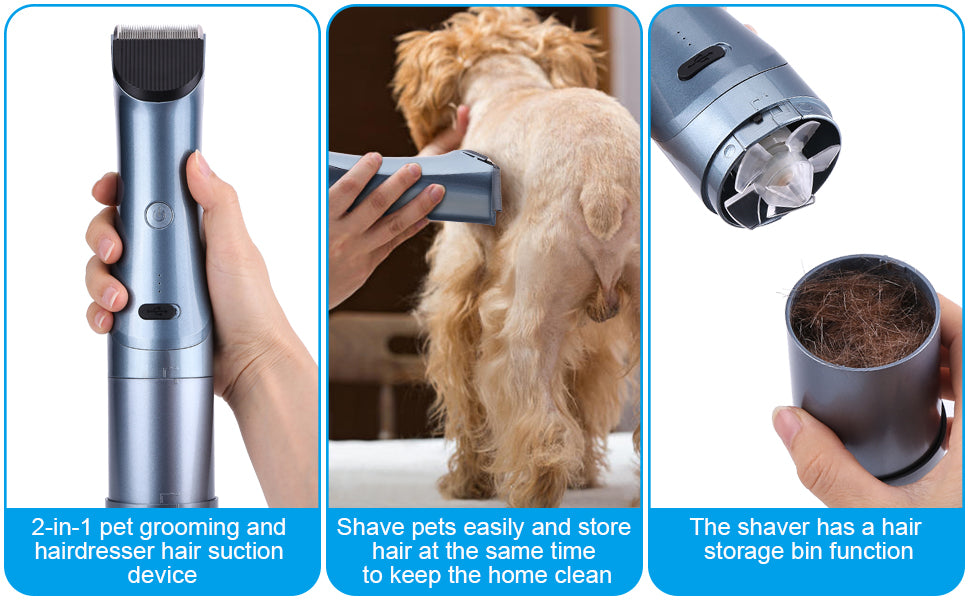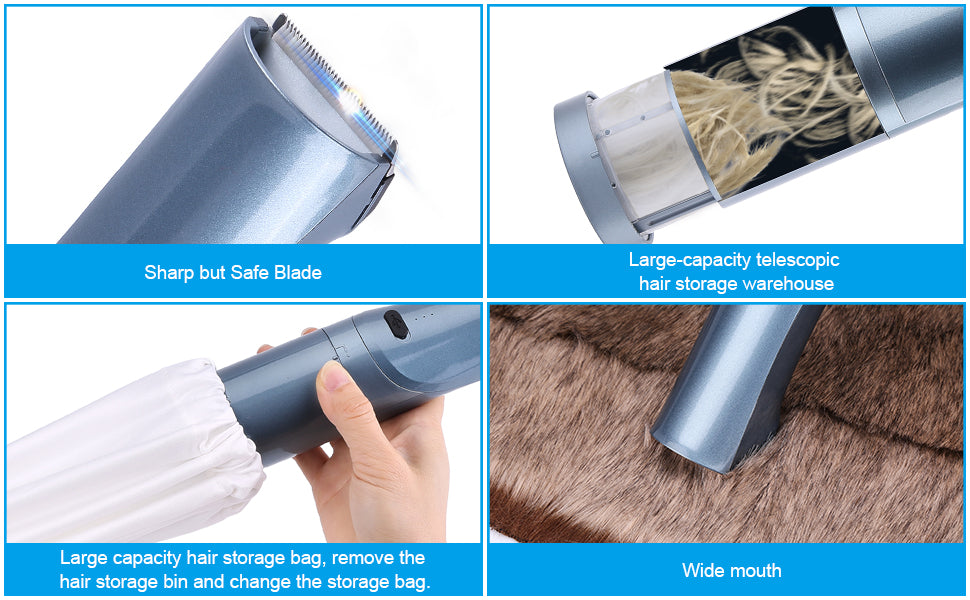 Ceramic Blade: The teeth of the shaving blade are round. You can easily shave pet hair without scaring or hurting your pet. Detachable blade makes it easy to replace and clean. It's IPX-7 waterproof, so the wholeclipper can be rinsed in water.
Powerful Motor: The rotational speed of the clipper motor can reach 6500 rpm and the rotational speed of suction fan can reach 20000 rpm, making a strong suction power. With a lithium battery of 3350mAh large capacity, it can operate for 90 minutes after being fully charged. (Tips: It is normal that every pet gets a little scared the first time it sees the clipper. Please let your pet get familiar with the operating sound before trimming.)
Easy to Use: It supports USB charging. You can charge it by connecting it with computer, laptop or charging adapter. With the ON/OFF key, you can use 3 functions - to turn on/off the clipper, to trim, and to suck/collect pet hair. Besides, there are 3 indicator lights corresponding to above 3 functions, so you can easily know when the clipper is operating. It's suitable for cats, dogs of large and small breeds.
Perfect for Daily & Professional Grooming: This complete set includes 1hair suction clipper, 2 hair storage bags, 1 scissors, 1 steel comb, 4 limit combs(3mm/6mm/9mm/12mm), 1 lubrication oil, 1 cleaning brush & 1 USB cable. The clipper kit let you trim your pet and collect its hair at the same time. With its nice packing, you can also give it as a present to your families and friends who own pets.